Courses to help your website be an asset for your business.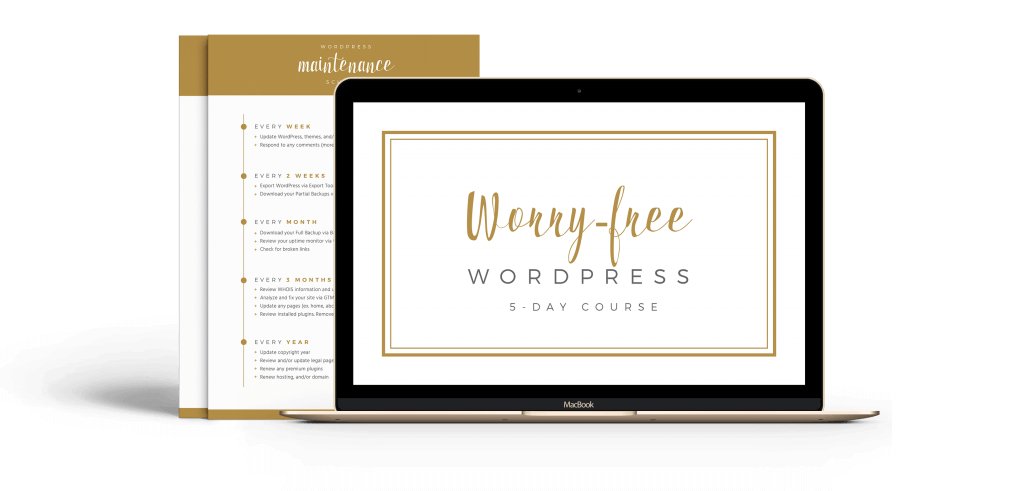 This 5-day email course shows you how to take care of your WordPress website with a clear and easy to follow maintenance plan.
Learn my exact steps I use to backup my and my clients' websites manually so that you are safe from losing your website from hackers or tech issues.
Map out a simple and effective security strategy that takes you from being worried about getting hacked to confident your site is protected.
Say goodbye to stressing about your 20+ available WordPress updates…and finally get your website updated without problems breaking your site!
Learn my go-to strategies for keeping your website performing well…to get more clients AND higher search rankings.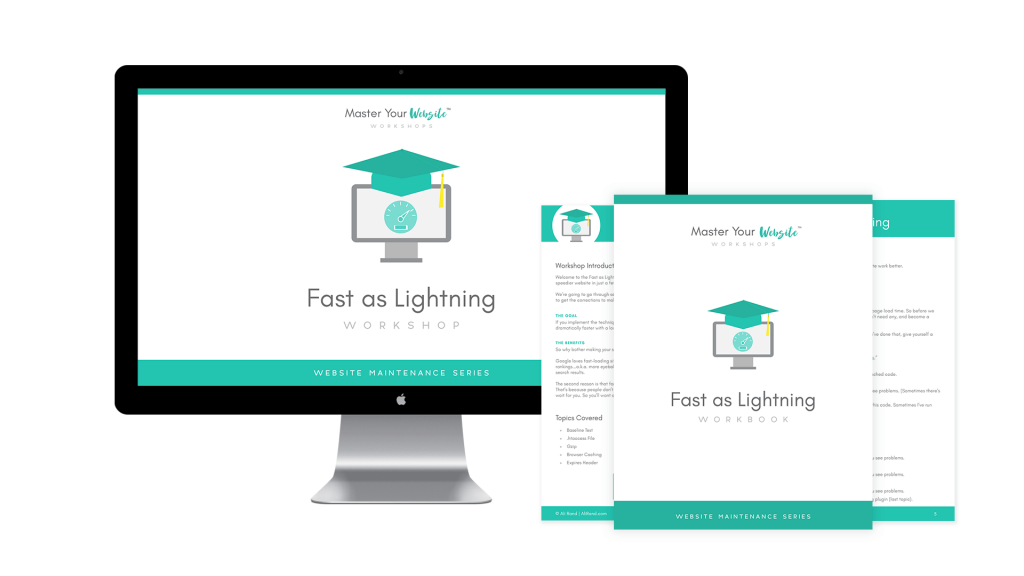 This 5-part video workshop shows you EXACTLY how to increase your website's speed by 30% to 50% (or more) for more site visitors and higher search rankings…even if you're tech challenged!
The EXACT code I use to speed up my clients' websites and video walkthroughs of where to put it.
A detailed workbook laying out the steps with resources for your website needs.
The reasons your website get slower over time and HOW to fix things to make your customers happy.
Access to me if you have any website questions at all. Because I know you got them!
The tools that run successful business websites...
After working with so many web design clients and testing out the different tools/platforms, I wanted to recommend my top favorites that I use(d). Please note some of these links are affiliate links and I may be compensated if you decide to use any of the products.
Where you host your website is SUPER important...it's going to be your home for the next few years afterall! You want a web hosting plan that is fast (so no one leaves waiting for your site to load), has great uptime, phenomenal customer service for when you have any issue, and affordable. SiteGround ticks all these boxes and you can get your website up or transfer over easy, peasy.
You could spend hours and hours getting more and more overwhelmed in your search through ThemeForest for "the" perfect theme. Or...you can just save yourself the headache and use my go-to theme I use on my website and every one of my clients' websites. It's lean (a.k.a faster load times!), SEO-enfused, has great support and is FREE! It's just an amazing theme that you can customize to fit your unique business, but isn't bloated with unnecessary features like most others.
This is actually my secret weapon to create amazing, impressive websites! This free plugin gives you full control on how your pages look...and is SO simple to use. It should work well on any new theme, and can just take a boring web page and transform it into something really magical. Give it a try today and you'll never go back to the WordPress editor again (or Divi!).
If you aren't using a security plugin on your website, go download this ASAP! Your website needs to be protected from hackers, malware, spammers, etc. and this free plugin does a fantastic job at that! It's actually the first plugin I install on any new website, as sites need to be protected right away.
If you're super busy and haven't backed up your website recently (or ever?), don't worry. This plugin is an easy fix that automatically backs up your website to your destination of choice. No more worrying if you break your site because you have a security net now (go you!).
Make sure your blog posts are spread on social media with the gorgeous, easy to install Monarch social sharing plugin. You can have your icons floating on the sidebar (my fave) and get stats on how well your content has been shared. A must-have for any blog!
Capture all your website leads and follow-up with them automatically with ActiveCampaign, my favorite email marketing platform! You can't beat the amount of features for the price, and I love the easy tagging, automations and drag and drop email builders. I've tried others (ConvertKit, Aweber, MailerLite, MailChimp), but ActiveCampaign has my heart (but not my wallet as it's so affordable!).
To get traffic to your website from Pinterest, do yourself a favor and get Tailwind. It automatically pins at the optimal times and it makes it so much faster to pin. I get a week's worth of pins done in 5 minutes, plus my engagement has gone up so much from barely reaching 1,000 people a month to over 1 million.
Let's talk about your website.
Get clear on what you want in your business website, what might be holding you back from getting more clients online, and what your next best step is.