Creating your business website is a labor of love: site structure, hosting, and design need to be delivered with care and precision.
But while it's entirely reasonable to want your website to have numerous bells and whistles, it's vital that you don't forget your About page.
Your About page is where your customers, clients, or visitors come face-to-face with the company they're doing business with.
A website's homepage may give the first impression, but the About page is your first chance to really focus on your personality and identity.
Your About page is your first chance to really focus on your personality and identity. Click To TweetAnd just as it's useful to get a lot of interview experience to figure out how to best articulate your qualities, it's really valuable to learn from exceptional About pages when you're thinking about how to approach your own.
Let's take a look at 7 About pages that just work, and consider what's so great about them.
Nike
Sport and streetwear company Nike is a massive brand, and with good reason.
It's known across the globe for its on-point advertising campaigns that always seem to be perfectly styled and prove incredibly motivating (for the audience, and thus Nike sales).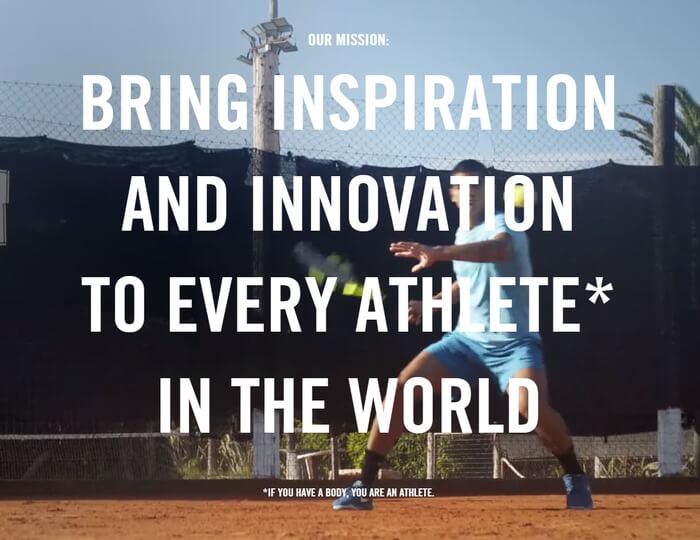 The Nike marketing team is able to achieve such remarkable results because it knows its user base so well.
Understanding that people want to be inspired, it consistently hammers home the message that the only things separating the average person and a so-called "athlete" are will, determination, and (implicitly) Nike gear.
Ultimately, that's why this About page works so well — it clearly identifies the legitimate essence of the company, something that's reflected in everything it does, and it's enormously positive.
Who doesn't want to be inspired and benefit from innovation?
Harry's
The shaving industry has really blossomed in recent years, driven by the rise in monthly subscription boxes, and Harry's is one such subscription company.
You can choose from their products and have them delivered to a schedule that suits you.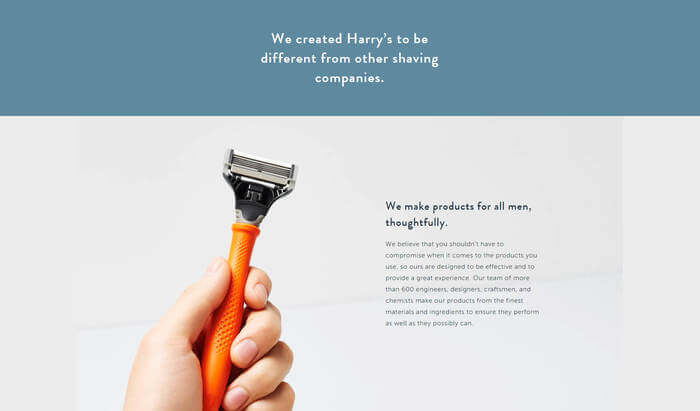 I really like the use of negative space on this About page.
Everything significant is given a great deal of prominence, and there's nothing to get in the way.
That said, there are two things in particular that I think stand out on this page.
Firstly, the following statement in the second content panel: "At Harry's we embrace the messiness of masculinity." Alliteration aside, that's a great mission statement.
Secondly (and most significantly), take a deep look at the user of color.
The blue and orange combination is ubiquitous to the extent of being a common trope, but that's because it works — and if you review the whole page, you'll see that everything uses blues, whites and shades of gray except for two things: the shaver handle, and the CTA button.
That's exceptional subtle design work.
Roll Studio
Roll Studio is a digital production company, meaning it writes code, builds apps, creates wireframes, and generally fits any role you need filled in the world of digital design.
Above is the first thing you see on the About page, with the number scrolling into existence once the page has loaded.
It's a very simple paragraph, but also an exceptionally powerful one — and I'll tell you why.
It tells you why the company operates (because the people love the work), proves their passion with a productivity stat, and identities their ultimate objective: "making sweet digital dreams come true."
Because that goal isn't specific, it encapsulates the concept of an agency creative and skilled enough to fulfil any request.
Munchery
Munchery is a service that delivers ready-made meals directly to your door.
You need only choose your meals and your schedule, then heat them up when they arrive.
As with the shaving product business, this is a practice that has grown hugely.
On the Munchery about page, we see more great alliteration (deliver on deliciousness, from the farm to the form), which always adds something to a page.
You may not even notice it consciously, but some part of your mind will spot it.
We then get a clear and well-arranged visual indication of the company's process.
This is an important thing to have because plenty of people might arrive on the page still wondering "How does this work, exactly?".
This page clearly and immediately answers that question in a way that keeps everything very simple and alleviates anticipated concerns (the ingredients are "fresh" and "all-natural," and the menu is "ever-changing," etc.).
Humann
Humann is another digital agency, though evidently with a much more unusual direction.
It has a listed objective of creating "meaningful digital products that connect with people," and I can certainly believe that given the quality of its website.
Of all the pages in this list, this is perhaps my favorite, and all for one big reason: the use of cinemagraphs.
The rise of social media has made cinemagraphs quite popular, but I've never seen them used in such an illustrative way (since the above is just an image, please click the link below it to see them in action).
Not only does the motion and quality of the cinemagraphs clearly show the creativity of the team, but it also demonstrates the skill on offer.
People who would achieve something that good for an About page could no doubt do remarkable things for a client.
Greats
Greats is a footwear company that aims to make high-quality footwear more affordable by creating its own products and selling them at value prices.
This is reflected in its tagline and the copy of its About page.
The page isn't as aesthetically interesting as others on this list, but it functions very well because it's straightforward and it uses video very effectively.
The video provided sees the two founders sitting on the pictured benches and discussing the company, talking about how it came about and what they want to achieve.
With the tagline of "The best, for the most, for the least" highlighted below, it has an almost political quality, which reflects their intentions to change the industry.
Kittie's Cakes
Kittie's Cakes is a bakery and cafe, but with a very interesting story behind it.
The two founders, Mollie and Kelly, traveled all over the world as professional golfers for a decade before ending their careers and entering the world of baking.
Fully understanding that their story is very eye-catching, they took full advantage in creating their Story page.
Not only does the content fully explain their past, but they also created that excellent illustration of the golfer bouncing a ball from several destinations before reaching the location of the bakery.
And the line of "WORLD TRAVELS, WORLDLY FLAVORS" is great as well.
Their past as golfers isn't just a neat narrative flourish to add character, but is a meaningful factor in their food — their time spent flying around the world allowed them to experience cuisine of all kinds, and customers can benefit from what they learned.
Why your About page deserves some attention
In checking out these 7 excellent About pages, I hope you've seen how having some kind of personal message can turn a company into something more than the sum of its operational parts.
If you don't have an About page, or it's very basic, you should work on it.
The point isn't that you can't succeed as a business without showing some personality and having an interesting message (you can find many in the online marketplace that run their businesses on dropshipping and are essentially sterile) — it's that turning your business into a brand that will hugely increase its long-term value.
Get inspiration from other businesses and websites in your niche and bring your own unique flavor to the table.
Find your story and share it with the world.
Conclusion
Summing up, consider this: if Nike lost its entire business overnight with the sole exception of its name, it could still return to success.
That's how much brand recognition means.
And if you care about your business, then you do have a story to tell — you just need to think deeply about what it is and how to tell it.
Good luck!
Some of the links contained in this post may be affiliate links. This means that I may receive a commission if you click on the link and make a purchase from the affiliate. I only recommend products and services that I know or trust to be of high quality, whether an affiliate relationship is in place or not.