If you care about your website (and I bet you do!), then I'm sure you want to keep it safe and protected.
It's your online home, after all! Gotta keep it up and running to make sure your business operates smoothly.

But just like a person ages over time, it's important to keep your website "healthy" so it can last!

So…what does a "healthy" website look like?

The best way is to think about a person…like you or me.

We'd say a person is healthy if he or she eats right, gets some exercise, and isn't sick or diseased. Pretty basic definition, right?

So a "healthy" website is one that is secure from bad things, gets checked up regularly for problems, and is free from malware.
A healthy website is malware-free and well-maintained. Is yours? Click To Tweet
And if you're ready to make sure your own website is "healthy," keep reading!

Malware
Ready to channel your inner Dr. House?

Good, because that's what we're going to do first!

Because making sure your website is free from "disease" or malware is the first step. If not, then everything else would be pointless.

So it's time to take your website to the doctor's for a checkup! And lucky for you, they have free healthcare so you won't be paying a dime.

Note:
There are several scanning websites out there, but the following are my favorites.
The first doctor we're going to visit is called VirusTotal. Yes, scary name, but don't worry…it's alright!

So go to the website and look for the section in the middle with the tabs. Click the "URL" tab and enter your website's URL. Then click the big, blue, "Scan It" button.



It'll start scanning your website for…viruses! Wow, betcha didn't see that coming…

When it finishes, you're given its analysis. If your site is clean, you'll get a lot of green "Clean site" notifications down the page. That's great!



But if you have any red, infected notifications, you now will need to review and fix your website, as it might have malware.

This usually involves this process:
Backup your files and databases.
Update everything you can to the latest, most secure editions (plugins, themes, and WordPress).
Then find and delete or replace malicious code.
Note:
If you're site isn't clean, there are cleaners out there like Wordfence who can try to help you or you can contact me and I'll see what I can do.
Then, I recommend you scan your site with Wordfence. If you have the Wordfence plugin installed on your website, it'll run daily scans.

Just keep an eye on them and fix any issues the scan uncovers. This could be outdated plugins, potential backdoor files, and files that different from the WordPress or plugin repository. You'll need to resolve the issues by following their recommendations.


Security
So at this point, hopefully we have a healthy website. It's free from apparent malware and issues and is healthy.

To make sure it stays healthy, it's time to get into a proper regimen!

I cover most of the rest of this in my FREE 5-Day Worry-Free WordPress Email Course, so if you haven't signed up for it yet, here's your chance!

Learn to Maintain Your Site

You'll first want to make sure your username isn't a derivative of administrator or your website URL. Then, you'll want to make sure you're using strong passwords for all users on your website.

Then, I recommend installing a security plugin, like the free Wordfence.



You can limit failed logins, protect your WordPress version, and a whole bunch of other features.

Once installed, it runs daily scans and you'll be well on your way to a healthy site. It's like eating well every day!

Backups
One thing that I see time and time again is website owners not backing up their websites often enough (or at all!)

Some only rely on their webhost backing their sites up for them, and think that's good enough (sorry, no).

Others think they are protected because they use a daily backup plugin (wrong!).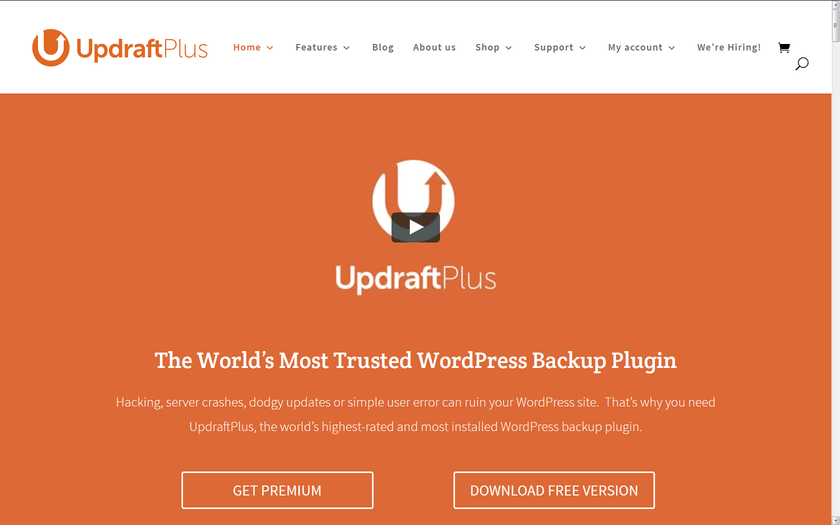 And a small minority think they don't ever need to backup their site at all (definitely wrong!).

Why are they wrong?

Because technology isn't perfect. Things fail…data can be corrupted. So relying on ONE method doesn't cut it.

Sure, you may be able to get by with only doing one method. But, wouldn't you rather rest easy you have backups FOR your backups?

I know I sure do!
Don't put all your eggs in one website backup basket. Click To Tweet
So for the safest plan to keep your website safe and protected, make sure you have several fallback methods in case you need to restore your website from a problem.

That's why I recommend the following:
Know how to manually backup your site. All the files AND databases.
Check if your web host also does periodic backups and find out how to restore from them.
Use a backup plugin if you want more peace of mind (be careful as it can cause performance issues. Schedule for off-peak hours backups).
I go more in-depth on how to do this in my free 5-Day Worry-Free WordPress email course.

Updates
Now that we've covered a lot, the last thing is updates!

In WordPress, you have 3 types of updates:
WordPress core
Themes
Plugins
And the healthiest website is one that is up-to-date with the latest versions, because they often involve security updates!



Hackers and security threats are constantly evolving, so your website's defense needs to too!

So keeping your site updated makes sure your site has the latest protective measures.

However, there is the flip side of updates in that they could potentially break your site because they stop playing nicely with your theme, other plugins or WordPress version.

If a plugin does break your site (and you see a white screen with some weird code on it), you can go to your host's backend File Manager or FTP. Then navigate to public_html > wp_contents > plugins. Find the problem plugin folder and rename it by adding "-disabled" after the name. This deactivates the plugin and you should be able to log back in. If this doesn't work, you might delete the plugin then restore an earlier version.

Conclusion
Now you see all the ways your website can be "healthy" and how to better achieve web health! Because it does take a continual dedication to keeping your website well maintained with everything you have to do with security, backups, updates, etc.

Some of the links contained in this post are affiliate links. This means that I may receive a commission if you click on the link and make a purchase from the affiliate. I only recommend products and services that I know or trust to be of high quality, whether an affiliate relationship is in place or not.