Just wrapped up my favorite website design project so far for Cascadia Seller Solutions!!
Absolutely LOVED designing and building this website as it involved a challenging re-organization of their info and gorgeous imagery I just adored.

It was a large makeover for a great company, and the site now looks 1000% better (not bragging here, it's what the Cascadia's clients have said!).
And I was pleased the Cascadia team is also overjoyed with the results:
If you want to dive in and read the whole success story, keep going.
Or else you can check out the portfolio pictures here and the live site here.
See the website design story for Cascadia by Ali Rand. #webdesign Click To Tweet
Project Overview
So, I was contacted by Rachel Greer, founder of Cascadia Seller Solutions, about redoing her business's website.
Cascadia is an experienced Seattle area Amazon consulting agency, helping sellers on Amazon grow their business and do it the right way!
She wanted my opinion about their website, so I looked it over and immediately started envisioning a better website for them. It was actually amazing because the whole team is so experienced with Amazon, as they are mostly all former Amazonians (a.k.a. Amazon employees).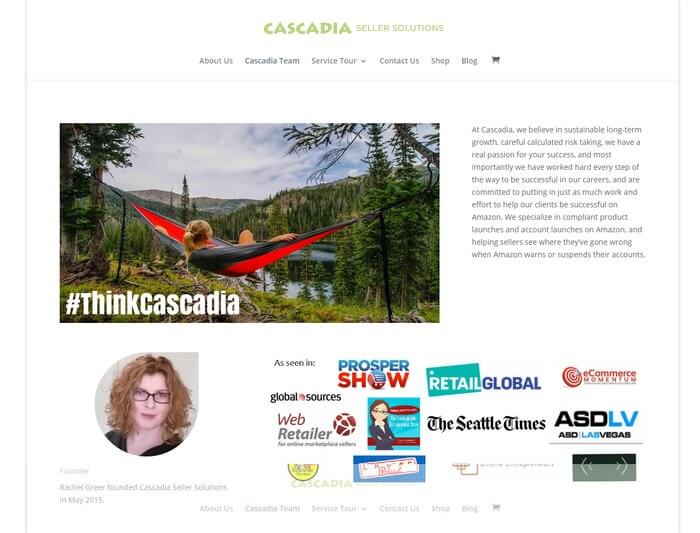 They had everything going for them on paper. Clients, success stories, over 80 years combined experience, fabulous reputation in the industry, etc.
You'd think an amazing company like that would have a website that showed all of it off…
But…unfortunately that wasn't the case.
I knew their site could look so much better, but there were several main problems in the way…
Problem 1
Their website's message was the biggest problem. As a visitor to their website, I had no idea what they did. The old-timey black and white car photo on the home page also did nothing to support what this business did.

Only by exploring more pages, did I realize they helped sellers on Amazon. This is important because 88% of online consumers are less likely to return to a site after a bad experience. Source: Econsultancy.
88% of online consumers are less likely to return to a site after a bad experience. Click To Tweet
Problem 2
Then, the website was a bit of a maze. Visitors should have a clear path to take when visiting a website. And there wasn't a clear path on their website. They actually had so many different services, but they were hard to find, hard to determine if they were right for you, and then it was very hard to actually purchase them.

Because their services were only accessible to buy from a WooCommerce "Shop" page – not on the sales page. And since usually a shop page means physical products, it could confuse people searching for what they needed.
Problem 3
On the positive side, Cascadia had a great logo for them that represented the Pacific Northwest brand/culture they wanted to embody. But there was a great disconnect between the logo and the rest of the website's branding. A standard green color was used throughout the website, even though the logo was a more yellow-green.

The Goal
When a visitor comes to their home page, I wanted them to
Know exactly where to go next based on their needs
Learn about the service they needed
Be convinced Cascadia was the company they needed
Then easily purchase the service
So although their site needed work, the great part was that they had a LOT of information. We just had to figure out a better way to organize it cohesively on the website to actually make the buying process simple and effective.
Stage 1: Prep
Before any design or writing can get done, my SEO copywriter and I needed to learn as much as we could about the company.
This was done via our detailed homework questionnaires and then a follow-up phone call to nail down all the details and questions.
Since Cascadia already had a pre-existing website, the next thing we needed to do was make a big list of all the potential pages to build.
I started listing pages in my Design Status Google Sheet, and put columns for progress markers (like copy done, mockups done, initial build, mobile checks, etc.).
Then, I went through every page on their website and copied all the copy into one big Google doc. I then sorted the big pile of copy into the corresponding pages and created one list of testimonials to draw on throughout the process.
Once all the copy was organized, our SEO copywriter then began the SEO keyword research and writing of the chosen 5 pages.
Next, it was time to get ready to create mockups.
I already had the logo to work with, which looked great. I just needed to gather photos.
Since this was an Amazon consulting company based in the Pacific Northwest, Cascadia wanted their brand to reflect this mix.
So, I scoured Pixabay for photos of business/selling and Pacific Northwest scenery like mountains, rivers, lakes, etc. (I love mountains so I was so excited to be able to incorporate the Pacific Northwest imagery!)
Once I had a big enough collection of photos to use, I opened up Adobe Illustrator and came up with the color scheme.
The primary accent color would be the yellow-green color of their logo, and then I chose a blue and salmon as other accents. Combined they all represented the natural elements of earth, water, and fire that's important in the Pacific Northwest.

I also took this time to choose the font scheme. Rachel liked simple, sans-serif fonts, so I chose Montserrat to use on the website.
With all the preliminary steps out of the way, it was time to get down to business and start designing how this website would look!
Stage 2: Mockups
I then used Adobe Illustrator to start creating visual mockups of how their web pages would look.
The menu and footer were created first.
As a growing business, I wanted the menu to be traditional in order to not confuse potential visitors. Therefore, the logo was in the top left corner and the links in the center and right.
Main links were chosen to be in the main menu:
About: Always a very important page that is often visited second, so it was first in the list
Services: A list of their main services for easy reach
Reinstatements: Since this service attracted a lot of clients, it needed its own menu link
Contact Us: Always an important link to have within easy reach
Phone Number: I wanted this to be visible so people could easy see it and call them
Sign In: For existing customers to have a clear and easy to spot way of seeing their account.
The footer also had all the important links organized in a clear manner, and had prominent contact info which is a great trust/credibility factor.
Also on several pages was their lead magnet: "Reduce or Eliminate Listing Suspension on Your Amazon Account."
While their PDF material was good, I thought the cover could be better designed. So I designed a new PDF cover and replaced the old one on their PDF. Then I created a book mockup to be used on their site to better entice visitors to download.

For Cascadia's services pages, they had a LOT of different services available. So I often used icons to differentiate them and made them anchors. Visitors could click the icon to be automatically whisked down to its place on the web page (which is very fun to play around with!).

I finished up the mockups for the pages and once all were approved, I started building the pages on one of my development websites.
Stage 3: The Dev Build
I used GeneratePress and the Elementor page builder plugin to build their pages.
I started with the easiest pages first and then transitioned into the longer/more complex pages.
On the Services page, there was a Tab section for each of their services. So I needed to customize the default Tab section in Elementor with CSS.

The other section needing more custom work was the About page's team section. These were Accordion sections that needed custom coding to make it look how I wanted.

But the biggest challenge was incorporating WooCommerce into the buttons.
Cascadia's current setup was:
Shop Page > Individual Item Page Buy Now button > Cart > Checkout
This process was too long, as it's best to make the checkout process as short as possible to reduce people leaving the sales funnel.
Make the checkout process as short as possible to reduce dropoff and increase sales. Click To Tweet
And they really didn't need a Cart, as I asked if people usually bought more than one service at a time, and Rachel said no.
That's why I wanted this setup:
Sales page button > Checkout
Simple. Fast. Effective.
Therefore to bypass WooCommerce's default setup, I needed to use my buttons on the sales page to go straight to checkout. I did research and found this was possible with just a certain URL for your button that had the item number.
So, for a single priced item, it was easy, as I could just put their certain URL in the Elementor button.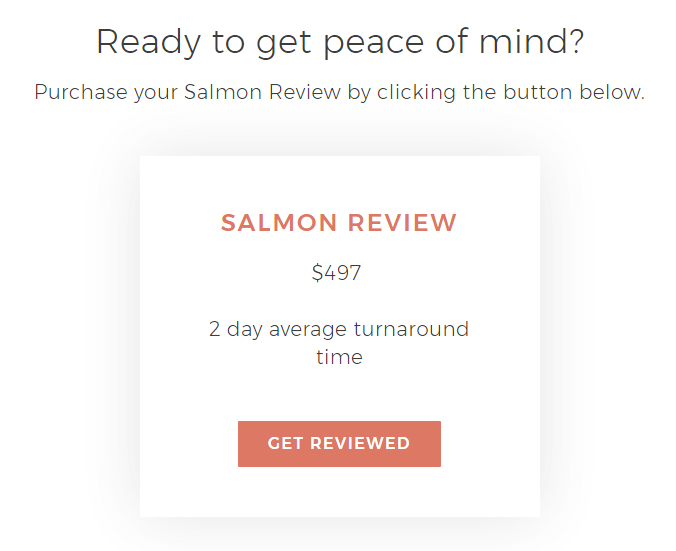 But for larger priced coaching services, the WooCommerce simple URL wouldn't work as the service required a deposit payment.
And I couldn't find any resources online with how to work with this.
I thought about it and tried different things until I got it to work by copying the HTML code for the button on the product's WooCommerce shop page. Then I just tweaked the code to display what I wanted and made the look of the button match the style of the rest.

So then it was all working like I wanted which was satisfying. I just love figuring out a puzzle!
Once I had all the pages built, I tested and fixed them for performance and mobile responsiveness. Then it was time to transfer them to Cascadia's website!
Stage 4: The Transfer
I had exported each Elementor page and imported them into Cascadia's site.
I checked them over for problems and then made sure all the links were correct.
Then, I created a menu for the new pages (while keeping the old menu active).
That's because Cascadia was currently using the Divi theme, so my new full-width pages weren't displaying right.
I knew they would with the new theme I wanted to use, so I then installed and activated GeneratePress and the GeneratePress child theme.
Then immediately after I did that, I made the new menu the default menu, so our new pages displayed.
I then built out the footer and double-checked all the pages for mobile, performance and links one last time.
I also redirected the old pages to the new pages in the backend, so that any old links got to the right place. We don't want anyone getting lost now, right?
And voilà!
The gorgeous website was now done and proudly reflects the true professionalism and brand of Cascadia Seller Solutions.
Client Feedback

Here's what Managing Partner of Cascadia, Rachel Greer, had to say about the project and working with me:
What (if any) hesitations did you have before hiring me?
None. I read some sort of social media post and liked the copy – I read all the way through to the end. I then asked a question about my website, and got a detailed and constructive critique, which I very much appreciated. I read through your website, and your quarterly report showed me how detail oriented and goal focused you are, and with both of those, I knew you were the right person to take on the project.
What was life like before your website and what is it like now?
I was embarrassed about the website. It was too disorganized. I kept fretting about it because I knew it could be better and better representing our business, but I was the only one in the company with any skill at using the editor that the previous web designer had installed. Now, I am excited to just go to the website and poke around and just feel gleeful about such a pretty website being our flagship statement to the world.
What did you like most about working with me?
Supremely well organized, positive attitude, willingness to dive in and understand my business so that the website reflected the business accurately.
Would you recommend me and my services? If so, to whom and why?
Hell yes. Anyone who hates dealing with anything tedious should absolutely outsource website design. Not fun.
Is there anything else you'd like to add about the experience or anything I could do to improve my services?
Sometimes I wasn't completely clear on what was covered and what was not. Otherwise, I was very happy with my experience with you.

And here's what Christina Evans, Partner in Business Development, had to say:
If you're finally ready to make an investment in your business with a strategic and gorgeous custom website, you can
learn more here
or feel free to contact me at hello(at)alirand.com to talk about your project! I'd love to find out if we'd be a great fit!
Conclusion
This was such an amazing project that I enjoyed the whole way through!
The site has been totally transformed to reflect the professionalism of this Amazon consulting agency, and I know it's just the start of an exciting new chapter for Cascadia.
On a personal note, Gloria and I are really grateful to have worked with such lovely people in this project. Everyone was always available to answer questions and provide support when needed.
It's been such a great experience working with everyone and I wish you great success moving forward.
So thank you Rachel, Christina, Emily, Leo, Martha, and everyone else in Team Cascadia! You guys are rock stars!
P.S. Interested in getting your own awesome website? Learn more here!
Some of the links contained in this post are affiliate links. This means that I may receive a commission if you click on the link and make a purchase from the affiliate. I only recommend products and services that I know or trust to be of high quality, whether an affiliate relationship is in place or not.